Leica Q2 Reporter Edition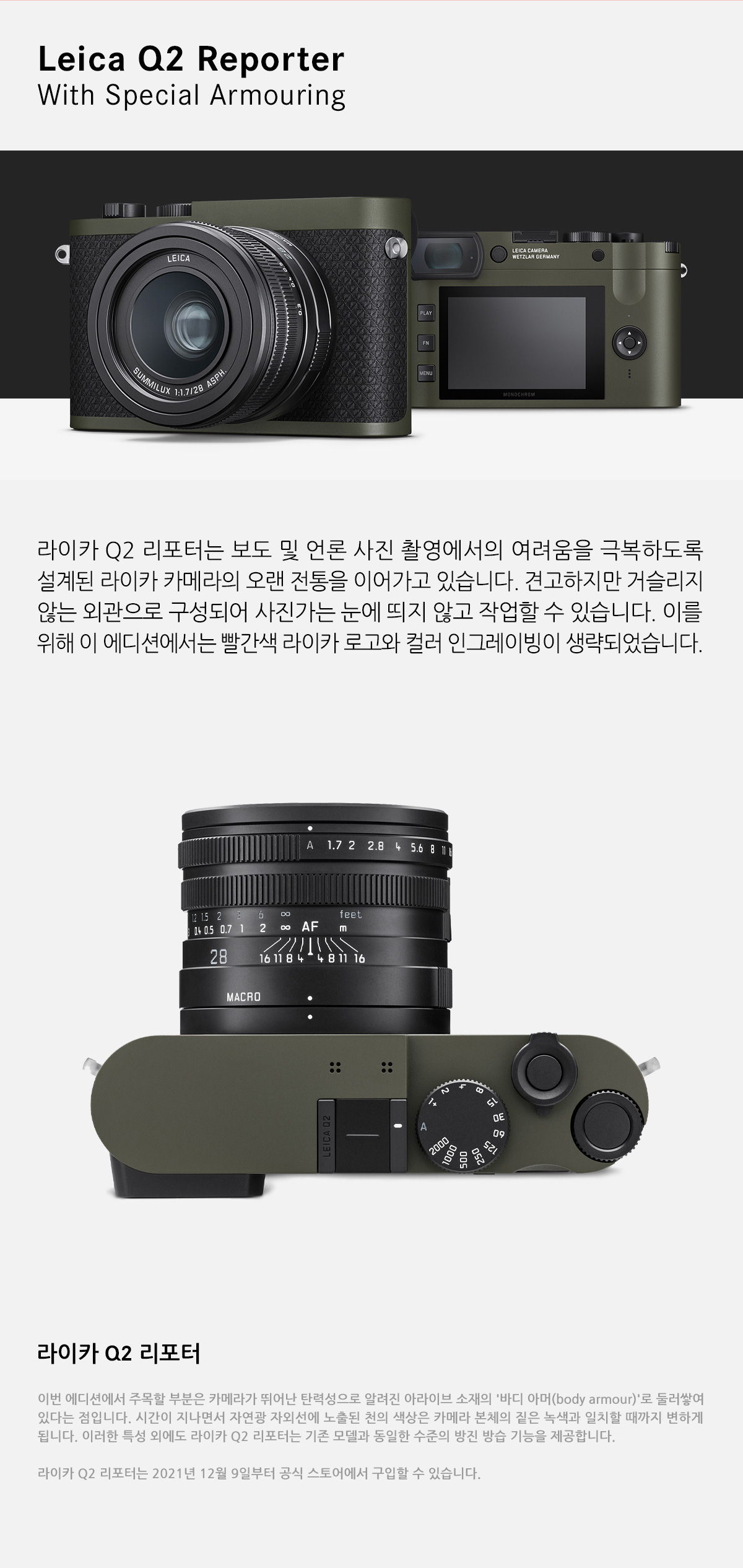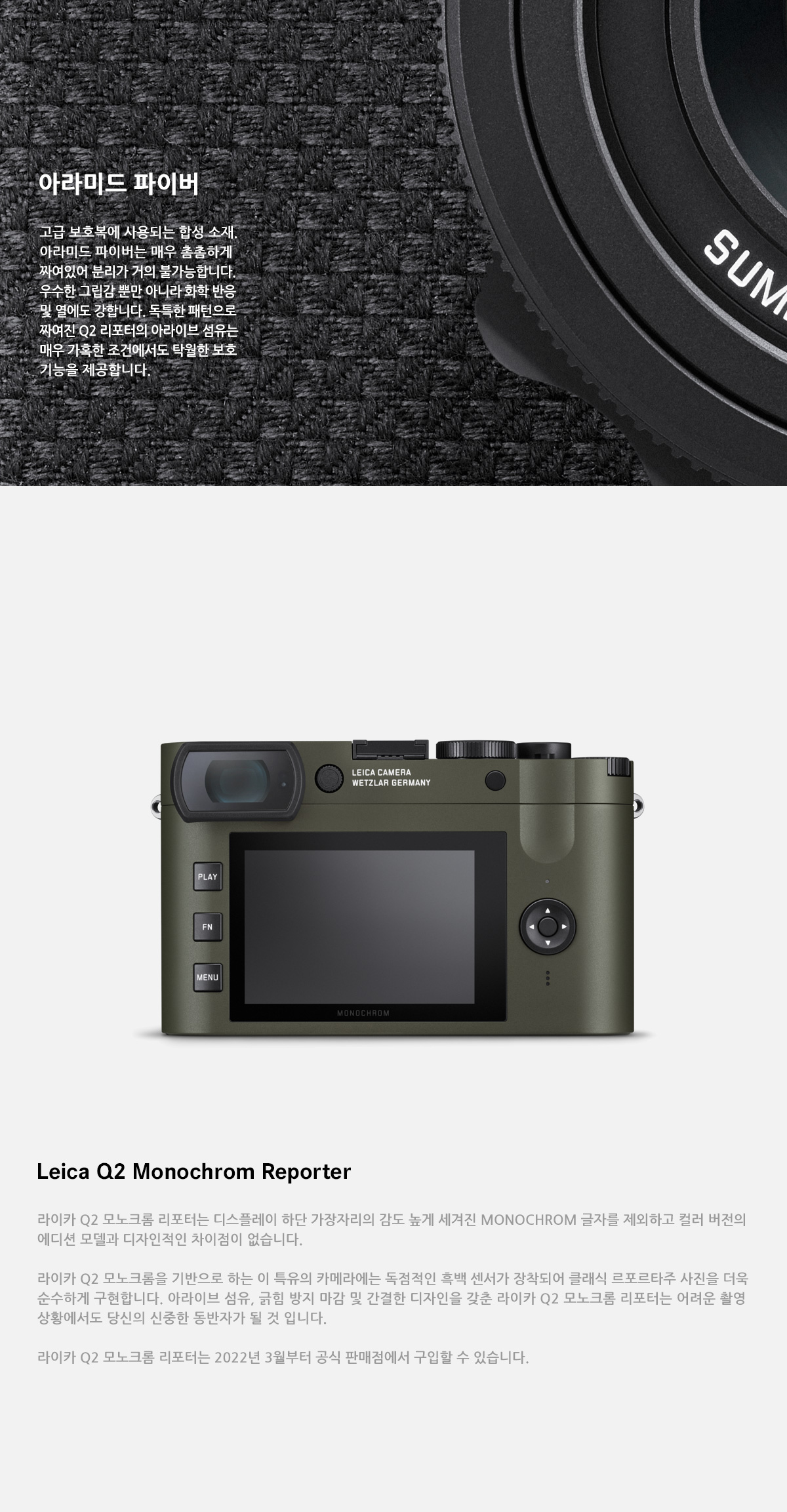 PRODUCT SPECIFICATION
Leica Q2: The new generation of the compact camera with a full-frame sensor and a fast prime lens
TECHNICAL DATA
Camera name
Leica Q2
Camera type
35 mm digital compact camera, fixed prime lens
Picture format/aspect ratio
24 x 36 mm / 3:2
Lens
Leica Summilux 28 mm f/1.7 ASPH., 11 elements in 9 groups, 3 aspherical lements
Digital frame selector (digital zoom)
28 mm, 35 mm, 50 mm, 75 mm
Image stabilization
Optical shake compensation system for still picture and video exposures
Aperture range
1.7 to 16 in 1?3 EV increments
Picture sensor/resolution
Full frame CMOS sensor, 50.4/47.3 million pixels (total/effective)
Dynamic range
14 stops
Color depth
14Bit
Photo capture format
Selectable: DNG, DNG + JPEG, JPEG.
DNG/JPEG resolution
JPEG:
Zoom 28 mm: 47 Megapixel (8368x5584 Pixel), 24 Megapixel (6000x4000 Pixel), 12 Megapixel (4271x2848 Pixel)
Zoom 35 mm: 30 Megapixel (6704x4472 Pixel), 15 Megapixel (4800x3200 Pixel), 8 Megapixel (3424x2288 Pixel)
Zoom 50 mm: 15 Megapixel (4688x3128 Pixel), 8 Megapixel (3360x2240 Pixel), 4 Megapixel (2400x1600 Pixel)
Zoom 75 mm: 7 Megapixel (3136x2096 Pixel), 3 Megapixel (2240x1496 Pixel), 2 Megapixel (1600x1072 Pixel)
DNG:
Zoom 28 mm: 46,7 Megapixel (8368x5584 Pixel)
Video recording format
MP4 (C4K/4K/Full HD)
Video resolution/frame rate
4K: 30 or 24 fps. C4K: 24 fps. Full HD 24, 30, 60 or 120 fps
Audio recording format
AAC
Microphone
stereo
speaker
mono
Storage media
SD/SDHC/SDXC memory cards Recommended: UHS II memory cards
ISO range
Automatic, ISO 50, ISO 100, ISO 200, ISO 400, ISO 800, ISO 1600, ISO 3200, ISO 6400, ISO 12500, ISO 25000, ISO 50000
White balance
Automatic, presets for: daylight, cloudy, shade, incandescent, electronic flash, grey card, manual colour temperature selection
Color range
sRGB / Adobe RGB / ECI RGB V.2.0
JPG settings
Standard, vivid, natural, monochrome, high-contrast monochrome, all with further settings for contrast, saturation and sharpness in 5 steps
Focus/saturation/contrast
optional
Focusing Working range
30 cm to ∞, close focus distance 17 cm in macro mode
Setting
Automatic (autofocus) or manual focusing. Loupe and edge highlighting (focus peaking) available as focusing aids in manual focusing mode
Autofocus modes
AFS (shutter release only after successful focusing), AFC (shutter release possible at any time), AF setting can be saved
Autofocus metering methods
Single field (225 fields), multi-field, face recognition, subject tracking
Exposure modes
Programme AE, aperture priority, shutter speed priority and manual setting
Scene modes
Automatic, sport, portrait, landscape, night portrait, snow/beach, fireworks, candlelight, sunset, digiscoping, miniature effect, panorama and HDR
Exposure metering methods
Multi-segment, centre-weighted, spot
Exposure compensation
± 3 EV in 1/3-EV increments
Automatic exposure bracketing
3 or 5 exposures in steps of up to 3 EV, can be set in 1?3 EV increments
Shutter type
Choice of mechanical, electronic or hybrid
Shutter speeds
60 s to 1?2000 s with mechanical shutter, 1 s to 1?40000 s with electronic shutter, in 1/3 increments, Flash synchronisation up to 1?500 s, linear flash with all shutter speeds faster than 1?500 s(with HSS-capable SCA 3002 flash units).
Continuous shooting
Choice of 10/5/3 fps (H/M/L)
Self-timer
2 or 12 seconds
OLED viewfinder
Resolution: 1280 x 960 pixels x 3 colours (= 3.68 megapixels). Viewfinder image: approx. 100%, aspect ratio: 4:3, eye-relief: 21 mm. Adjustable between -4 and +3 dioptres, with eye-sensor for switching between viewfinder and monitor screen
Monitor screen
3" TFT LCD monitor screen with approx. 1,040,000 image dots, touch control capability
WLAN
IEEE 802.11b/g/n compliant (standard WLAN protocol), channels 1-11, encryption method: WLAN-compatible WPA™/WPA2™ encryption; access mode: infrastructure mode
Power supply
Leica BP-SCL4 lithium-ion battery, rated voltage: 7.2V, capacity: 1860 mAh
Charger
Rated voltage 8.4 V; capacity at least 1860 mAh; charging time: approx. 180 min.; battery charger: 100?240 V, 50/60 Hz, 0.25 A, with adapters
Exposures per battery charge
Approx. 350
Body
Robust, lightweight magnesium alloy construction
Lens filter thread
E49
Tripod bush
A 1/4 DIN 4503 (1/4" thread)
Dimensions (W x H x D)
130 mm x 80 mm x 91.9 mm
Weight
734 g / 652 g (with / without battery)